For over 120 years we have served the Central Valley.
We have evolved. We have grown from a secretarial and vocational school, to a two-year degree granting institution, to a four-year degree granting institution, to a regionally accredited undergraduate and graduate school. Our mission has always been to offer student-oriented instruction in career-oriented fields, with a foundation in liberal arts. We have never focused on mass-production, and remain committed to small class sizes, quality service, personalized attention, and meeting the needs of individual students.
Our Mission
We prepare students for meaningful careers and professions through a high-quality educational experience, strongly informed by the liberal arts, and directed to the specific and changing needs of students from diverse ethnic, cultural, economic, and educational backgrounds.
Our Philosophy
We provide effective instruction and related learning experiences to students. We view ourselves primarily as a teaching institution. Our founder believed that a practical educational program must meet the educational needs of the individual student and contain elements of general and professional education. We have maintained this simple philosophy throughout our 100+ year service to the Northern California community.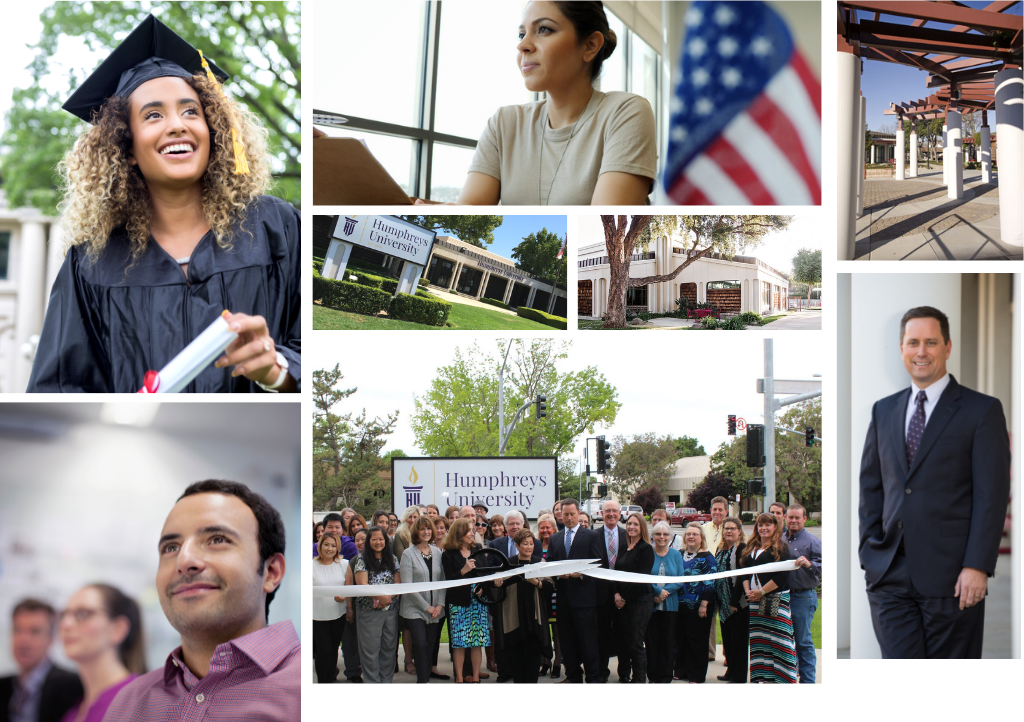 We are accredited by the Western Association of Schools and Colleges Senior College and University Commission (WSCUC).
Our court reporting program is approved by the Court Reporters Board of California. The teacher credentialing program is approved by the California Commission on Teacher Credentialing. As required by the Commission, Humphreys University will notify the California Commission on Teacher Credentialing within 30 days if its regional accreditation status changes.
On June 30, 2023, the WASC Senior College and University Commission (WSCUC) voted to impose the sanction of Warning.
Warning reflects the Commission's finding that an institution fails to meet one or more of the Standards of Accreditation. The Commission has determined that Humphreys is not in compliance with WSCUC Standards 1, 2, and 3. The accredited status of Humphreys continues during the Warning period and students' status within the college is not affected by this sanction.
2023 WSCUC Action Letter | 2023 Spring WSCUC Team Report
2022 WSCUC Action Letter | 2022 WSCUC Accreditation Visit Team Report
Drivon School of Law is accredited by the Committee of Bar Examiners of the State Bar of California.
Study at, or graduation from, this law school may not qualify a student to take the bar examination or be admitted to practice law in jurisdictions other than California. A student who intends to seek admission to practice law outside of California should contact the admitting authority in that jurisdiction for information regarding its education and admission requirements.
For additional information on the California Bar passage rates see the State Bar of California website here: https://www.calbar.ca.gov/Admissions/Law-School-Regulation/Exam-Statistics
We date our founding to the fall term of 1896. This is when John R. Humphreys, Sr., assumed academic administration of the Stockton Business College, Normal School, and Telegraphic Institute. However, there are scattered records and some graduating class pictures that date back to 1875. We have been in continuous service to the central San Joaquin Valley since that time, making us the first institution of higher education in the area.
We have changed names several times since our inception. We became known as "Humphreys College" on July 25, 1947, when we were incorporated as a nonprofit educational corporation under the California Education Code. Under this corporate charter and related bylaws, Humphreys College is held exclusively for educational purposes by a Board of Trustees whose membership consists of alumni, educators, distinguished citizens, and friends of the College.
We became accredited by the Western Association of Schools and Colleges, Accrediting Commission for Community and Junior Colleges. In June of 1992, we became accredited by the Western Association of Schools and Colleges Senior College and University Commission. Therefore, all our certificates and degrees granted (including the School of Law) are accredited.
We began offering courses through Modesto Junior College, eventually establishing a campus in Modesto.
Upon the retirement of Robert G. Humphreys in 2015, the trustees of the College appointed Robert G. Humphreys Jr., great-grandson of the founder, as the College's fourth President. In the fall of 2016, the Board of Trustees authorized the changing of the name of Humphreys College to Humphreys University. The college community felt the name change was a better reflection of the school's mission and our goals for the future.